Get More 5-Star Reviews For Your Business
Reputation Management Services
Your online reputation can be the deciding factor for potential customers. The reputation you spent a lifetime building can be ruined with a few bad reviews.
Learn How To Get More 5-Star Reviews in the Next 5 Days
Leverage feedback and reviews to dominate your competition with a 5-Star Reputation that instantly attracts new customers. Click the button below to learn about 7 Easy Steps to Getting More 5-Star Reviews For Your Business Fast.
Reputation management is the process of monitoring, managing, and influencing an individual or organization's reputation. The goal of reputation management is to promote and maintain a positive image and reputation online, while mitigating or addressing any negative perceptions about your business.
This can be accomplished by monitoring and responding to online reviews, managing social media profiles, creating positive content, and addressing and resolving any negative issues that may arise.
The problem businesses face is the amount of time and effort needed to consistently build, manage, and market their online reputation. Not to mention the expertise to implement a cost-effective strategy. And that's where we can help!
"88% of Consumers Use Online Reviews to Make a Purchase Decision"
With our reputation management software, you can take control of your online presence and protect your business from the negative effects of online reviews. Don't let negative feedback define your brand, take action today and see the difference our software can make. 
Our Reputation Management Software empowers you with everything you need to manage, build and market a business's reputation at push-button speed and positions you as a market leader in the marketplace!
Manage your online reputation with just a few simple clicks!
Build your business reputation faster than ever-before!
Ready to get started fast? With our reputation management software, you now have access to incredible features to build your business's reputation that will make your business a true market leader:
Market Your Reputation 24/7!
We've spent tons of money and research crafting the most comprehensive Reputation Platform ever built! And with our reputation management service, you can now place your business's 5-star reputation where it belongs… in the spotlight!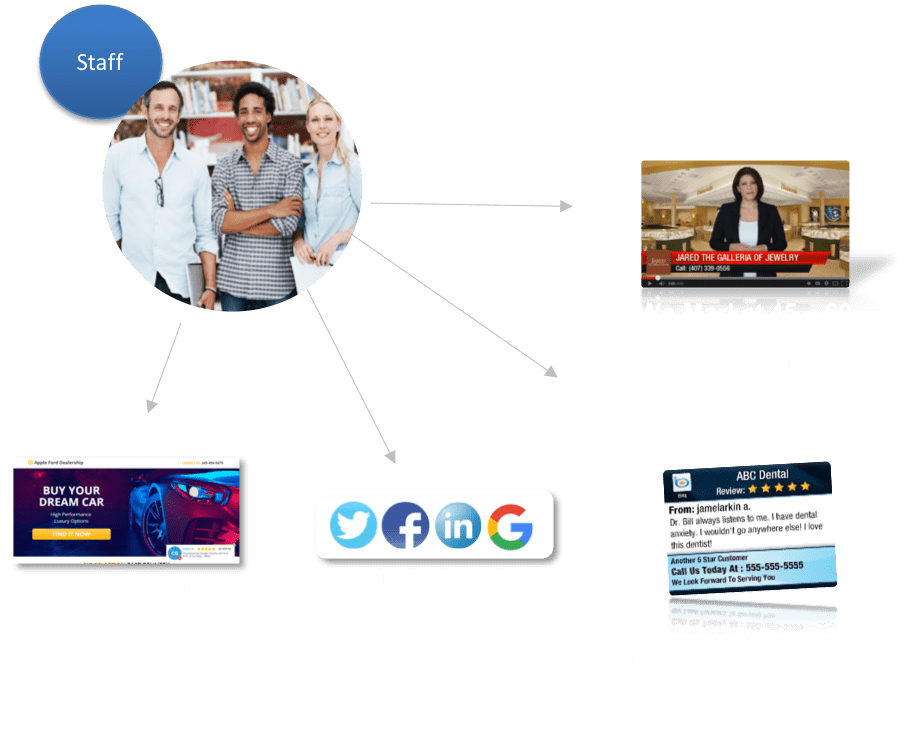 Displaying Reviews Can Increase Conversion Rates by 270%
According to Spiegel Research Center, displaying reviews for higher-priced products can increase conversion rates by 380%. You will have access to everything you need to build, manage, and market your online reputation! 
Our software allows you to monitor and manage your online presence across multiple platforms, including social media, review sites, and industry-specific directories. With real-time alerts, you can quickly address any negative feedback and turn unhappy customers into brand ambassadors.
Our advanced analytics tools also provide valuable insights into your online reputation, so you can identify patterns and make data-driven decisions to improve your overall online presence.
But we don't just stop at monitoring and responding to negative feedback. Our software also helps you amplify positive reviews and comments, so you can showcase your best qualities to potential customers.
If You Hired Someone to Implement a Reputation Management and Marketing Strategy, What Would It Cost You Per Month?
Now you can do all of this for the fraction of the cost...
For a Limited Time... Beta Prices Below
Reputation Management Services
Monthly Packages and Pricing
Bronze
Plan
(Setup Fee $497)
Monthly Reputation Reports
Silver
Plan
(Setup Fee $797)
* Brand Manger Features

Sign In "Virutal Clipboard"
Gold
Plan
(Setup Fee $997)
* Manager & Builder Features

Monthly 60 Second Video Commercial

Website/Blog Review Marketing

Social Media Review Marketing

Video Review Marketing + SEO

Monthly Marketing Analytics
FREQUENTLY ASKED QUESTIONS
Here are some of the most frequently asked questions about Reputation Marketing and Management Services.
Need Help Improving Your Online Reputation?
Fill out the form below to contact us. We look forward to learning more about you and your business, and how we can help you achieve better success online.
What Our Clients Are Saying About Mobile Giant